So here's another installment of 5 things I'm loving now.  This might be a regular thing here, I'm not sure yet.  Or this might just be a phase.  Since I'm often at the grocery to replenish our supplies (which I didn't often do when we were still living in a condo), I can't help but buy things which are not on my grocery list.
So here goes…
1. Gluta Advance White & Firm Soap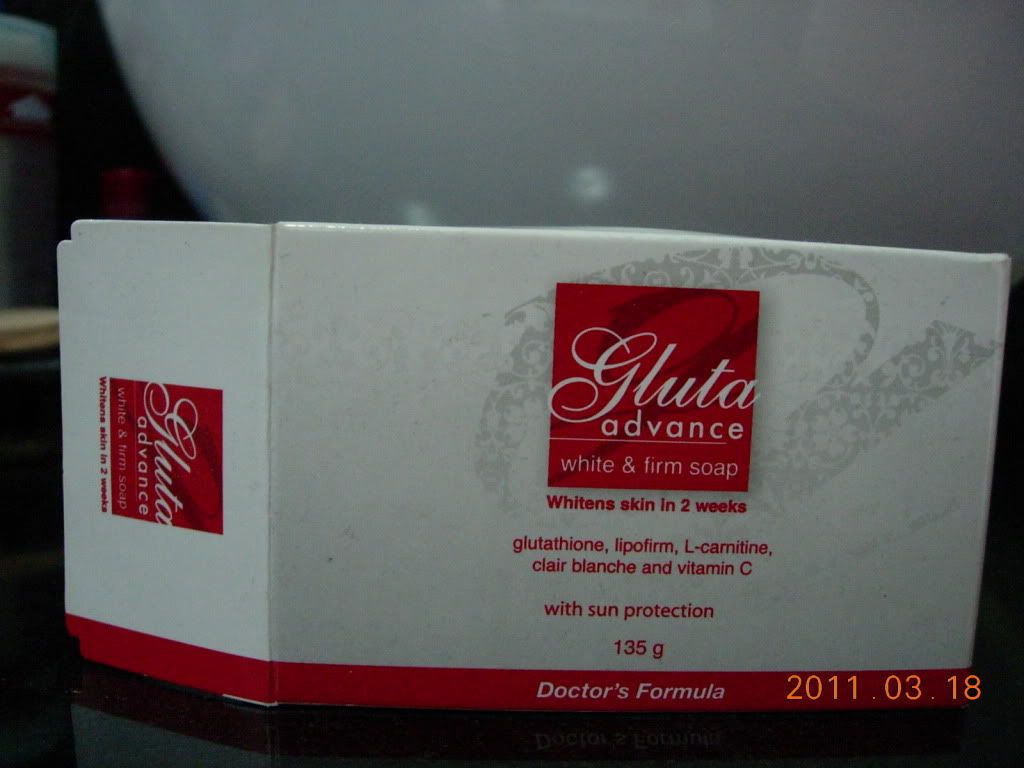 I saw this at Rustan's Supermarket when I was buying snacks for MG's fieldtrip.  I was trying to look for a soap that could help whiten my skin.  I've been running outdoors for the past few weeks and my skin seems to get darker with each run.  And tan never suited me coz my features are kinda "mestizahin".  The verdict?  It kinda works.  I think it helps that I'm not getting any darker but I don't see significant lightening effects.  And I'm not so sure about the firming part.  I still rely on Nivea for that.  But I will continue to use this.  I like that it also helps moisturize my skin.  It's not as drying as the other whitening soaps in the market today.
2. Milcu Roll-on Deodorant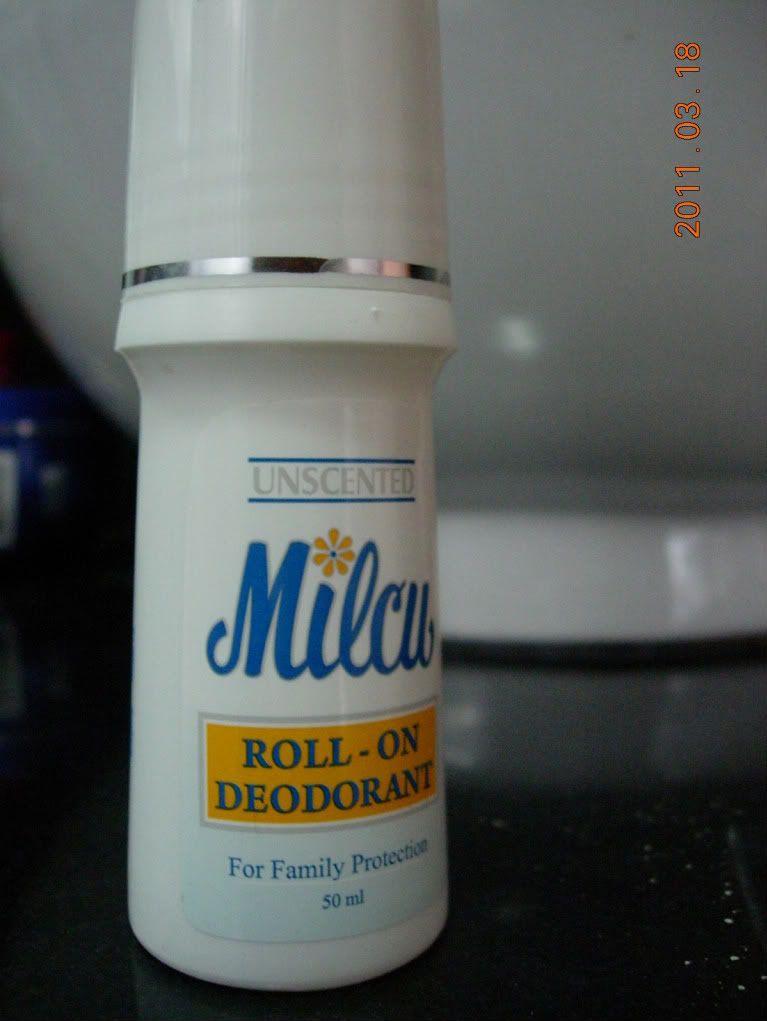 I've read good reviews about it.  And they're all true.  It really does keep the underarms dry even after exercise.  I've only been using it for two weeks now and it appears to be still full.  You don't need constant application and it dries fast so no more standing in front of the fan to dry.  And it's inexpensive too.  For less than Php 150, it would give you lots and lots of rolling action=)
But I feel that the formulation is too strong so I might alternate it with a gentler underarm deodorant when I'm just at home.
3. Burt's Bees Pore Refining Mask with French Green Clay

I love anything French.  So when I saw this at Beauty Bar, I knew I had to buy it and besides I was running out of mask during that time.  It's in powder form so you have to add enough water to form a clay or paste before applying on the face.  Actually, you can even substitute water with carrot juice if you have mature skin, tomato juice for troubled skin and green tea for oily skin.  It says so in the literature though I haven't tried it.  I use this when I feel that my skin is getting oilier.  It really helps control the oiliness. My skin feels tighter too.  So I'm not really sure if this product is good for dry or mature skin.
I also like that it's so economical to use.  I just need less than a teaspoon for my face. And I don't use this on my neck so I think a jar would last me many many months.
4. L'Oreal Revitalift
I don't regularly use a night cream.  But at my age, I really should.  I saw this at the grocery together with other L'Oreal's anti-aging products.  There were lots so choosing was hard.  They seemed to contain the same ingredients but they were all in cream form.  I have oily skin so as much as possible I try to stay away from cream-based facial products.  So I chose this.  The bottle actually contains both gel and cream.  The pump releases both the gel and cream and you have to mix the two before you apply on the face.  The pump could be tricky.  I had to pump several times before I got the gel out.
I've only been using this for over a week now and I can say that my skin looks firmer and tighter.  So I'll keep using this.  And since this works,  I'm going to find out if there is a day cream or gel with SPF so I can apply it in the morning when I run.
5.  Buckwheat tea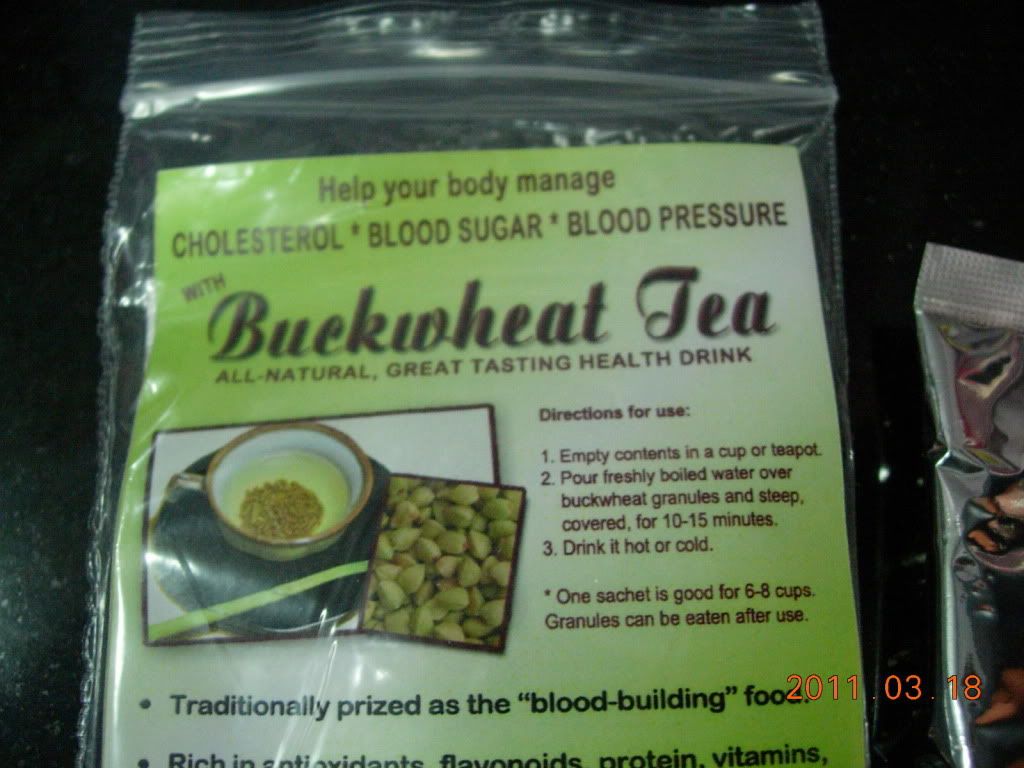 I discovered this tea when we had lunch at Greens Cafe.  When I read that it helps regulate blood pressure, blood sugar and cholesterol, I immediately bought several sachets.  I love drinking this at night.  It's so calming and I feel like I'm doing my body some good.  I don't know about the cholesterol and blood part, I just know that it's good for me.  It's also caffeine-free.